Extract from the anthology 'Beijing Portrait of a City'
He woke on the last morning of his journey, red dawn light creeping through the cracks in the curtain. Listlessly, he opened them, and saw that the landscape had changed. The endless paddy fields were gone, replaced by the maize of the north. Yellowing leaves covered ears of corn that glistened ruddy ochre in the early sunshine. Lines of tall poplar trees marked a road, their shadows striping the sandy path. Suddenly he saw a cart being pulled by a Bactrian camel. Two little boys, in ragged clothes but with shining eyes and wide, happy grins, were jumping up and down, waving at the train. An old farmer, leading the camel, had a hand to his brow and was smiling.
It was only a brief glimpse – but Harry was filled with joy, and something of his old sense of purpose.
That is the moment in my novel, The Dragon's Tail, when my hero spy realises that he really is about to return to his beloved Beijing after an exile of twenty years.
I didn't invent the scene. I'd seen that camel cart myself when I looked out of a train window during my own first visit to the Mainland in August 1979. It thrilled me as much as it did Harry. Beijing was beckoning me. It was so close up the track that in only two or three hours I'd be walking its streets.
Beijing! Suddenly my mind was flooded with memories: it was the school holidays and I was staying with my grandmother in Sussex; the dining table was set for tea, and she was telling me stories about China and the magical city that she had known as a girl….
[...]
I thought I'd locked away all these romantic memories of what I then, in my priggishness, considered to be my inappropriate colonial past. I was 26 years old, a journalist, with my mind fixed on the present; I knew all about post Maoist China and what to expect. I'd interviewed victims of the Cultural Revolution when I was a general reporter on the South China Morning Post … but that fleeting cameo of a camel cart outside the window had undone me, and – I couldn't help it – I found myself dreaming again, as I had as a little boy.
It was the camel, of course, that was to blame.
The fact was that I had unconsciously always associated Beijing (or Peking as I still thought of it) with camels – the shaggy, two-humped Bactrian version, preferably loaded down with sacks of silk, or boxes of tea, and led by a turbaned merchant. Quite where this fancy came from, I'm not sure. It could have been an illustration from my Ladybird history of Marco Polo. Or maybe I was inspired by my father's collections of pre-War photography that he found in second-hand bookshops near the British Museum: the hauntingly beautiful portraits of city gates, crenellated walls and lines of camels plodding silently across the snow.
For that was the Peking of my reawakened imagination: Kublai Khan's capital, Khanbalik. It was the city that lay on northern plains under huge Central Asian skies. Palace of the emperors, it was also the entrepôt at the end of the Silk Road, where the civilisation of China had perfectly absorbed the mysteries of its desert interior and synthesised them in great Buddhist temples, and market places, where grizzled Uighur traders sold Confucian scholars gum guggul and benzoin, frankincense and myrrh, peepuls, aloeswood, realgar, rhinocerous horn and anything else that could be carried on the back of an animal from the furthest boundaries of the Middle Kingdom and beyond. The camel – to me -symbolised it all
Naturally, I didn't find any of this when I eventually reached Beijing. My fairy tale city had vanished along with its walls- pulled down during the Great Leap Forward.
[...]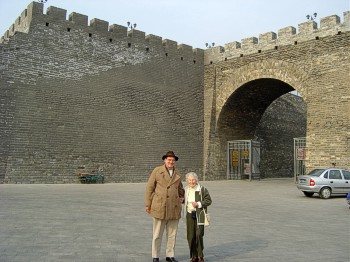 I never did find my beautiful city – concrete and smog are not aesthetic, despite any amount of expensive new buildings – but it had become home for me. I'd raised a family here, my work for an old China trading house was still challenging and, not being a golfer, I had begun to write novels on weekends.
One thing I had completely forgotten – or thought I had – were my camels.
Until January 2005, when I received a visit from my ninety-three year old great aunt, Ben.
[...]
On the day after our Tianjin trip I took her to Beijing's newly restored Tatar Wall. It is only a kilometre long and it is all that remains of the battlements that once encircled the city. It is more Disney-fication than preservation of cultural heritage, because actually the destruction of the city wall in the revolutionary 1950s was absolute. Still, this ersatz copy of the old Hatamen Gate serves the municipal government's purpose to give Olympic tourists a whiff of the old imperial city. And I was curious to see if it would stir any memories in Aunt Ben. As we sat on a bench on the lawn by the new/old gate, I asked her, had she ever envisioned that she would come across great walls like these when she first came to this city sixty-five years ago?
"I suppose I imagined something like it. Our impressions of the mystic Orient were very much guided by Hollywood in those days." She chuckled. "Great gates and clanging gongs, Aladdin, Douglas Fairbanks, Anna May Wong and the Arabian Nights…"
"Surely you had some idea of what China would be like?"
"Not really. I'd seen illustrations in children's books: sampans, pigtails, kites, that sort of thing. Oh, and prints and drawings of the tea trade in old leather books, but it was all very much China of the nineteenth century, and it was totally different when I got here. Well, they still flew kites. I saw plenty of those."
"They fly them today in Tiananmen," I said. "What impression of Peking did you come away with once you had seen it?"
She frowned. "Dirt, smells – it was all a bit shabbier than I anticipated." Her face suddenly brightened. "There were the camels, though. They were marvellous."
I felt a trickle down my spine. "Camels?"
[...]
Read the full account of Adam Williams' The Camels of Khanbalik in Beijing Portrait of a City